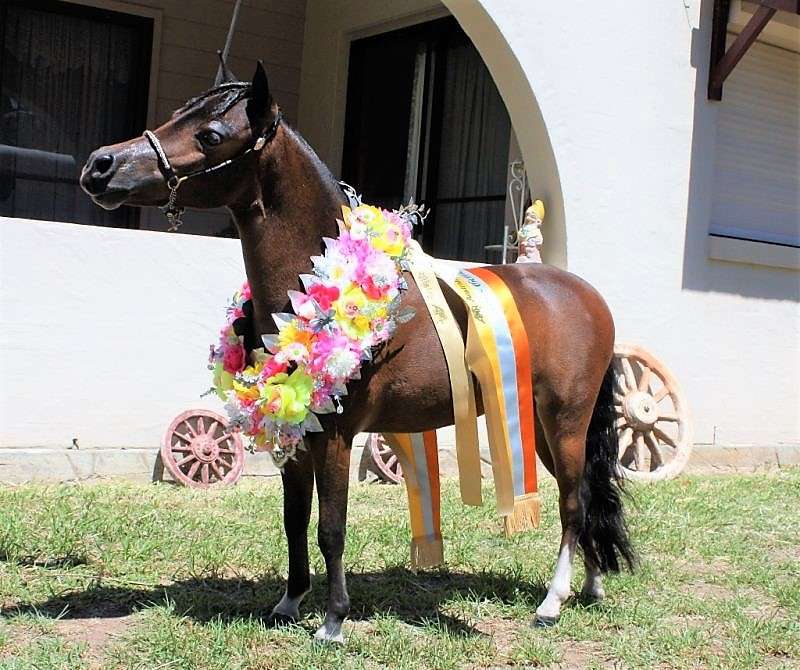 Sharon & Scott are the proud owners of "Almighty Miniature Horse Stud " situated In the beautiful Hunter Valley ,Sydney, Australia.
We have obtained some of the great attributes of the world's finest bloodlines to produce exquisite petite American foals for the future to enhance the breed.
"SCOTTS CREEK MONARCHS SOPHISTOCAT" was imported from the United States last year 2009 after being heavily & successfully shown over there winning many regional & State shows bringing home many Supreme ribbons and trophies.
SOPHISTOCAT took out Supreme Miniature Horse at his first show with 64 horses in his class, and placed 4 times in the TOP TEN HONOR ROLE USA ....Joanne took Cat to the WORLD SHOW and won WORLD RESERVE CHAMPION in the FUTURITIES ...well done Joanne & Cat
When he arrived at our stud I prepped Cat and took him to our National Show in Australia and he won the "National Champion Colt-
National Grand Champion Colt award
National champion Triple-O- Rama Champion
National Grand Triple-O- Rams colt under 3 judges.
His 2010 foals will no doubt will be outstanding, Cat as we know him is the son of World Halter Champion " Sierra Dawn Uno's monarch" who has produced many world champions.
Theses power genetics ……After studying American bloodlines for 5-6 years I was sure Cat would fulfil my dreams. Cat's Dam "Brewers Dynamo's Lady a black pinto (sadly deceased last year to a terrible accident) was a world Champion driving horse also winning Champion Futurity mare & Reserve World Champion in open classes of more than 40 horses with over a thousand horses at the World Show.
Cats Dam is an own daughter of World Grand Champion "Bond Dynamo" a legendary sire of the Brewers family (these again are power genetics). There are no weaknesses at the Top and bottom of Cats breeding.
From the aspect of being a Breeding Sire Cats pedigree is absolutely outstanding, with generations of consistency to produce outstanding progeny, evident with Cats maternal sister "Scott Creek Sometimes A Lady" winning World Champion 3 years ago and also his other many siblings being highly successful show horses.
Leading up to the World show in America Cat achieving "Reserve World Champion AOTE Yearling Futurities" also being listed 3 times in the Top Ten Honor Roll.
Our Vision is to promote the breed & to contribute to the great gene pool that already exists in Australia working for the greater good of the breed with our other enthusiasts for the promotion & recognition of this truly magnificent & endearing Equine.
THE MINIATURE HORSE ....Scotts Creek Monarchs Sophistocat.Here in Australia, Our Arabian-type miniature horses are bred for athletic ability, beauty, disposition, intelligence, motion, and refinement.
Scott Creek Juste Moment Dot Com IMP